Though we have evolved over our 23-year history, empowering students and supporting youth leadership around food issues have always been at the core of our work.
As a seventeen year old undergraduate at Wilfrid Laurier, Rahul Raj faced an interesting choice of what to do with his excess meal plan points at the end of the year. Ignoring a friend's suggestion to buy a lifetime supply of gum, and inspired by his grandmother's teachings about the importance of helping those in need, Rahul instead decided to use those points to support a food drive on campus. It was on this principle, that students could spring into action to make a difference, which lead to the founding of Meal Exchange. Through Meal Exchange, Wilfrid Laurier hosted its first successful food drive, with students donating hundreds of meals using their meal plan cards.
Rahul and Ryan Saunders wrote their thesis on creating and managing a non-profit organisation, as a guide for Meal Exchange's expansion. This lead to Meal Exchange expanding to other universities, with the University of Guelph being the first to the table. Meal Exchange's first chapter director at the University of Guelph was a young Dave Kranenburg.
1997: MX Obtains Support from the Trillium Foundation
Meal Exchange received its first grant, courtesy of the Ontario Trillium Foundation.
1998: MX Becomes a Charity
In addition to expanding the campus chapter network to include the University of Windsor, in 1998 Meal Exchange became officially registered as a charitable organization..
1999: First Trick-or-Eat Campaign
The first Trick or Eat campaign is run this year at St. Thomas University. Meal Exchange chapters are also started up at St. Thomas, St. Mary's and Brock University.
Meal Exchange was the recipient of much public notice in 2000, with being described as one of "Canada's most innovative non-profit organizations," in a Maclean's article,as well as being a runner-up for the prestigious Peter F. Drucker Foundation Innovation Award. Palmer Jarvis/DDB also designs an extremely successful print campaign for Meal Exchange, so much so that posters are stolen from campuses to hang in dorm rooms and student housing across the nation.
Chapters at the University of British Columbia, University of Victoria, and the University of Alberta-Augustana campus were formed. The highlights of this year were the receipt of a grant from the McConnell Family Foundation, as well as Meal Exchange's history and expansion being used as a case study in a university marketing textbook.
The 401 Richmond building in downtown Toronto, a restored industrial building that is home to several artists, galleries, and other creative, artistic, and nonprofit organizations, becomes Meal Exchange's permanent home.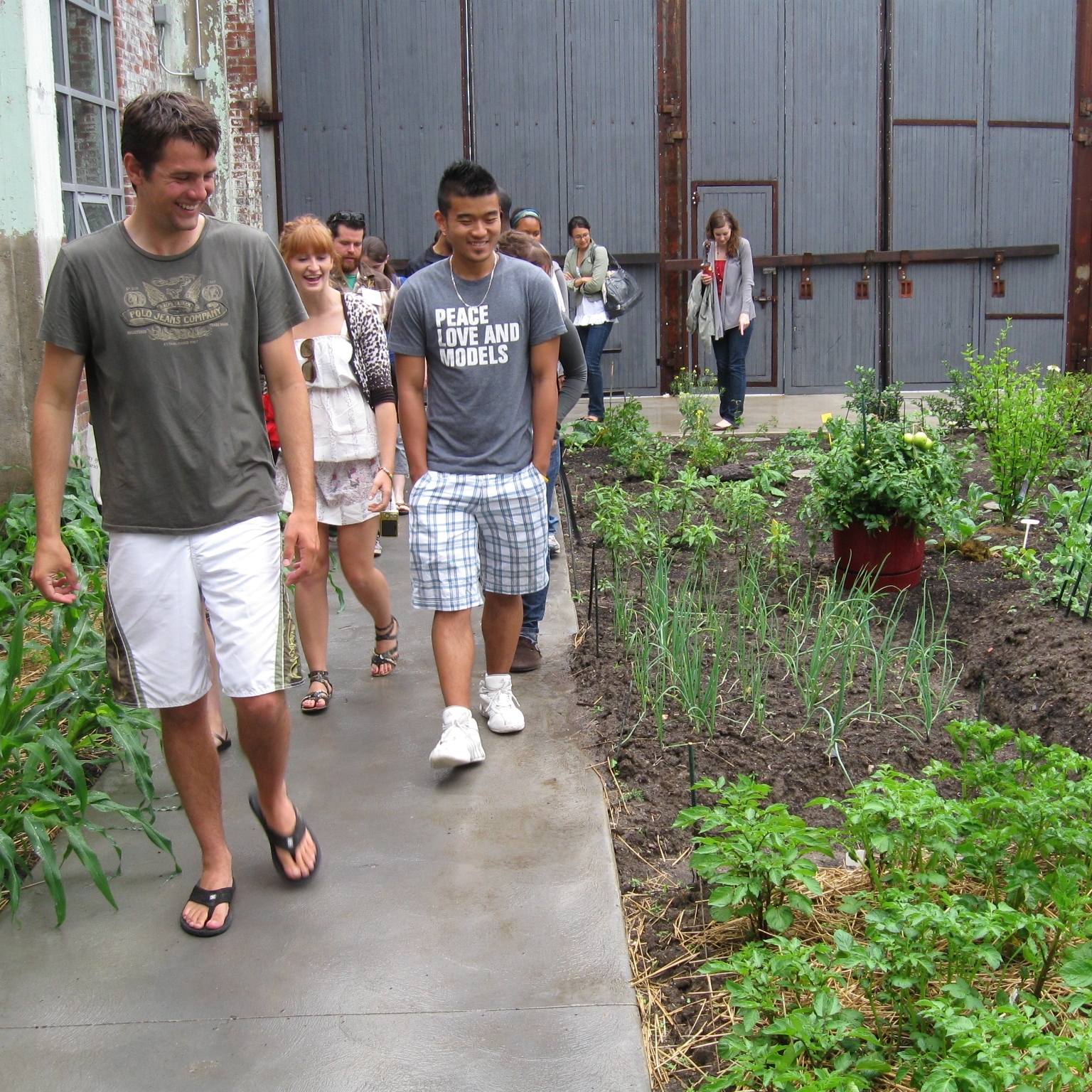 2004: Student Food Network & Esurio
With generous support from studentcare.net, Meal Exchange forms the Student Food Network, a student-founded, youth-led initiative that connects campus food centres to each other a network of resources. Meal Exchange hosts its first annual national conference aimed at students, titled 'Understanding Through Action: Leading Social Change.'
2005: Trick or Eat Goes Online
Meal Exchange works with Artez Interactive to bring Trick or Eat to the next level by launching an online fundraising and donation campaign through the Trick or Eat website.
2006: Portraits of Hunger
The Student Food Network is launched as Meal Exchange's first Social Incubator project. The website is launched as well at www.studentfood.ca.
Portraits of Hunger was a youth-led national theatre project featuring the stories of hunger in Canada from research and writing by students.The brain-child of the second annual leadership conference, Portraits of Hunger was Meal Exchange's second Social Incubator project.
2007: Holiday Train & Food For Thought
In partnership with the Ontario Association of Food Banks, Meal Exchange launches the Ontario-wide lecture series Food for Thought on campuses across the province.
Meal Exchange partners with Canadian Pacific's Holiday Train programme to raise food and awareness for local food banks in communities across Canada and the U.S.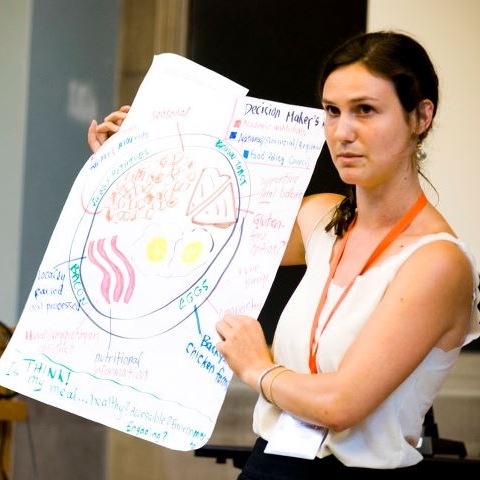 2008: 2 Million Milestone
Between 1993 and 2008, Meal Exchange programmes generated 2 million dollars for those in need across Canada, 1.2 million of which was raised between 2004 and 2008.
Meal Exchange with Bishop Strachan School in Toronto produces the first full length adaptation of Portraits of Hunger, 4 Corners, which was performed on May 20th & 21st at the Young Centre to raise funds for Meal Exchange and awareness for the 2.5 million Canadians facing hunger.
The first StomachThis!, a workshop on food security, took place on March 21, 2009 in downtown Toronto. Twenty youth aged 15-24 from a diverse range of cultural, socio-economic and educational backgrounds attended to broaden their knowledge of hunger and food security, and to learn how to take action by mobilizing their communities to make a change.
The University of Guelph Meal Exchange Chapter is awarded the June Callwood Outstanding Achievement Award for Volunteerism in Canada. This award recognizes volunteers for exceptional leadership, innovation and creativity, and significant contributions to their community and the province.
2010: Inaugural National BBQ Day
August 7th, 2012 was designated the first National BBQ Day, where Canadians from all across the nation were invited to bring their friends and neighbours together for a BBQ, for good food, good company and to raise awareness about hunger in Canada and how they can address issues of hunger and food security in their community and educate about the goodness of locally produced foods.
2011: Campus Food Systems Project
Meal Exchange grows to be a 5 person organization after receiving funding from the McConnell Foundation to fund the Campus Food Systems Project in partnership with Sierra Youth Coalition. This project enables Meal Exchange and Sierra Youth Coalition to coordinate student efforts on nine university campuses with the aim of changing university food procurement policies to support local, sustainable food systems. Applied student research is used to increase the collective understanding of local, sustainable food procurement.
2012: National Student Food Charter
The National Student Food Charter (click here to read!) was launched in August 2012 at the National Student Food Summit. The creation of the National Student Food Charter has connected students across the country in order to support student involvement in discussions of food on campus.
2013: Ontario Campus Food Systems Project
Meal Exchange launches the Ontario Food Systems Project with a focus on supporting more student engagement and education and ultimately more procurement of Ontario food to Ontario Campuses. Meal Exchange is now working on local, sustainable food production and procurement on 12 campuses across Canada. New projects including community kitchens, linking gardens to local food agencies and local food days are bubbling up across the country. Meal Exchange runs its largest Trick or Eat Campaign in history raising over $475,000 worth of food and $19,000 of funds for food agencies across the country.
Meal Exchange works with 42 campuses across the country to build more just and sustainable food systems. The launch of Students for Good Food for All - and the beginning of a partnership with Community Food Centres Canada. See all the 2014 highlights here.
2015: Real Food Challenge
Meal Exchange begins a formal partnership with the US based Real Food Challenge, an organization that empowers students to advocate for campus food systems that are nourishing to food consumers, producers, and the earth. Meak Exchange and Real Food Challenge work to adapt RFC's award winning program and bring it to Canada
 
2016: Hungry for Knowledge Report
Meal Exchange publishes the groundbreaking Hungry for Knowledge report in McLean's Magazine. This is the largest ever cross campus study of student food insecurity in Canada; nearly 40% students surveyed report experiencing food insecurity over the past year. The study demonstrates that food insecurity on post-secondary campuses is a serious and growing issue.
2017: Getting Good Food into Canadian Campuses
Meal Exchange works with students on campuses across the country to launch the Good Food Challenge, adapted for Canada from the US based Real Food Challenge. Students across the country campaign in support of the Good Food Challenge Campus Commitment, calling for schools to shift food purchases to 20% "Good Food" by 2025. Meal Exchange also launches the inaugual Campus Food Report Card, assessing local, sustainable, healthy, and accessible food on Ontario University campuses.